March 2015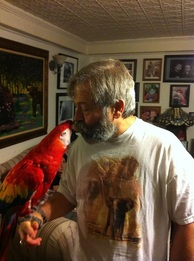 Dear Humans, Birds and Elephants,
I must tell you all how much I enjoyed doing the ELEPHANT PROGRAM last month. The news I brought was, at times, very sad but it is information that we must be aware of if we are to do anything about saving that wonderful species from the unconscionable horrors that it endures. This is true both in the wild with the ivory industry, and in captivity with the horrendous cruelty that it is made to suffer. I want to thank everyone who contributed to the Boon Lott Elephant Sanctuary. This is a place worth every dime we can give to it because every dime they collect goes to helping and working for the elephants, and other animals, they rescue. I have been able to raise about $550 to send to them, beside the promise of several people who said they would donate on their own through the website:
www.blesele.org
. Perhaps the bird club can "adopt" one of their elephants, I would pick
Pang Dow
. I will let you know how this goes and I will send everyone's name who contributed with the contribution.
Soooooooooooooo, it is back to birds and the main reason we exist as an organization. At home, Aristophanes, my fickle scarlet macaw, is doing pretty well. His allergies flare up a little bit but nothing like it used to be when he lived in his cage in the living room. He really enjoys being in the Elephant Room with Emma (Emmet) and Zeke. The only drawback is that he lives on a bird stand and the cage gave him more room. I forwarded a video to everyone about scarlet macaws that were reintroduced into the wild in Costa Rica. My heart hurts that Aritophanes cannot have a life like they, flying around in a family and doing what scarlet macaws were meant to do.
Zeke is a terrific little guy and hangs out with us wherever we are; I just have to keep watch on Simon because Zeke is a cockatiel and Simon is a cat......not always the best combination.
Emma (whom sometimes I remember to call Emmet) has been very affectionate lately and loves to stand and have his head and neck scratched and kissed. My birds are so moody, maybe it is a parrot trait and maybe it is just my birds; or my effect on them, I don't know.
I am still working on getting more programs for us. I have a very interesting woman, who runs a rescued poultry sanctuary, who said she would come. Her name is Kathy Knight and her sanctuary is in Rhinebeck. I was there when she took some chickens from me. Her place is really beautiful. She will tell you all about it. Also, I am getting Carol Cipriani, who runs the Parrot Lovers Cruise, to come and present too.
The new curator of Ornithology at the Bronx Zoo is scheduled to come to us in June, but I am trying to reach him to change him to July. I will let everyone know what is happening when I know.
Next month, by request, I have Craig Russell, president of the Society for the Preservation of Poultry Antiquities coming back to us. Don't miss that meeting, Craig always does such a great job.
Tonight we are honored by having Dr. Valerie Freer of the Audubon Society, and former Chairperson of the NYS Ornithological Society, come and share her erudition and expertise with us. Dr. Freer has spoken to our club several times in the past and her knowledge is just amazing. We should learn a lot from her.
The ice and snow seems to be ending. It has been a very cold winter with lots of snowfall. Most people I speak to seem to be tired of it all and are happy about the coming of Spring. I, personally, love the snow and I like cold weather better than hot and humid. But, Spring is nice if it would not bring the noise of the Monticello Motor Club with it.
Have a great month and be kind to all animals.
Happy birthday to my wonderful, handsome and incredible grandson, Matthew.
Love,
Richie
---